Important Notice
We are constantly innovating and adding value to our clients
National facilities management services
Maintenance    •     Compliance    •     Industrial Cleaning
Drainage / Pressure Washing
What we do
Fox Group is a facilities management company that provides the very best national facilities management services. We work with businesses of all sizes. Our competitive advantage is that we're well-equipped to access high areas safely.
Fully insured up to £10,000,000. We are environmentally conscious and have a highly motivated and well trained friendly staff part of our facilities management company.
Commercial and Public Sector
A full range of commercial services and facilities management utilized by some of Britains best known organisations on a national level.
Industrial Cleaning Services
Now with Commercial Cleaning


A premier Hull commercial cleaning company and partner to STC



Facilities Management
Services that we offer
Repair
Our in house maintenance team, even though we are predominately a scheduled maintenance company, many of our clients use us as a one stop shop for our efficient working manner and unrivalled pricing!
Our free bespoke quotes on all our services from a simple toilet seat replacement to full site overhaul are available for all.
Waste Removal
Our close relationship with local authorities and local waste management services enables us to give your site the tailored service that you require. After all, one cap does not fit all!
Window Cleaning
Fox Group clean commercial windows. We have the experience for cleaning windows from the ground up. No job too big.
Gutter Clearance
When carrying out our gutter clearance services we are highly aware of the risks and responsibilities of working at heights therefore minimising any risk of injury to our staff or the members of the public or our clients property.
Electrical
An example list of the variety of works carried out including:-
 * Extra sockets and light points / switches – inside and out. * Power to garages and outbuildings.
* Complete or partial rewires. * New builds and extensions. * Fuse board upgrades. * Fault finding, maintenance & repair. * Inspection, Testing and Certification.
No job is too small or big, so get in touch to discuss your requirements and for a free, no obligation estimate.
Grounds Maintenance
We are interested in small and large businesses alike, and take pride in each maintenance service contract we commit to. We have so far retained 100% of our clientele annually and have been growing at approximately 40% per year. Some of our company values include health & safety, accountability and quality control as well as a consistent commitment to customer service.
Our services include grass cutting and mowing to all forms of grass and lawn areas, flower beds and shrubberies, tree surgery, hedge cutting, sports grounds maintenance, nature conservation, weed control, and much more.
This includes jetting the drain, also cleaning and unblocking drains.
Our work also helps landowners fulfil their duty of care to the public by seeing to the safety of paving, trees, and outside ornamentation.
Decorating
Fox Decorating LTD offer a professional Decorating Service and are a professional painting and decorating company offering highest quality all-in-one decorating services to customers nationally.
We have trained and fully qualified decorators with years of experience in the trade in dealing with all aspects of the decorating industry within the domestic and commercial sectors.
You will recieve a full consultation with a clear and honest quotation on any job that you have and are treated with a friendly but efficient service.
Drainage / Pressure Washing
Pressure washing, steam cleaning, exterior restoration, graffiti removal, driveway cleaning and sealing service.
Here at Fox Group we always operate a professional yet friendly pressure washing service to both our domestic and commercial customers.
This includes jetting the drain, also cleaning and unblocking drains. This unblocking service would be suitable for most drainage systems from blocked domestic soil pipes and grids, to commercial gullies and sewers.
We also can provide high pressure vacuum tankers for gully emptying, road and street sweeping and cleaning if required, subject to quotation.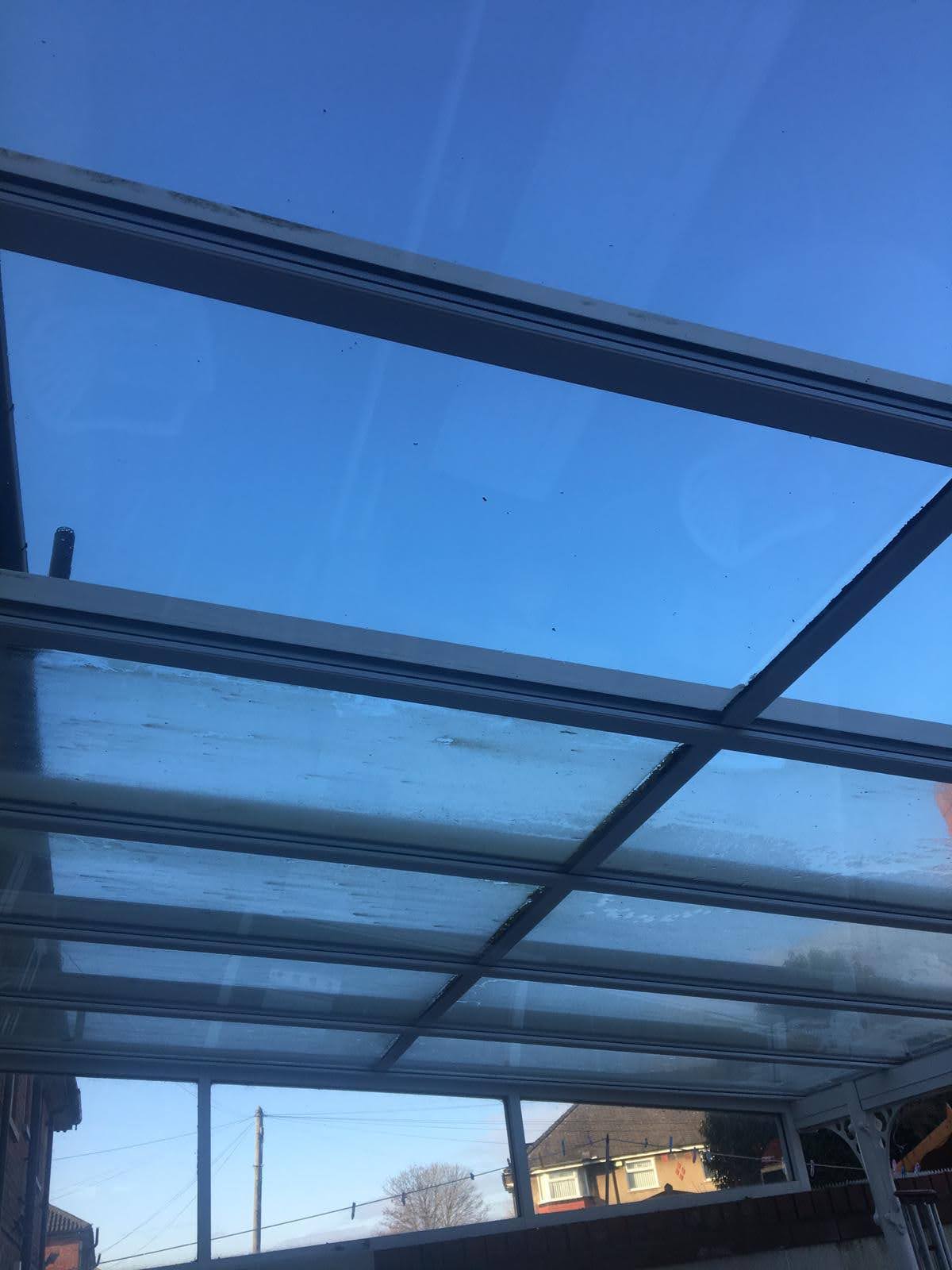 Window Cleaning Services
Our expertise in cleaning windows is really shown in this picture of some work we completed on a car covering.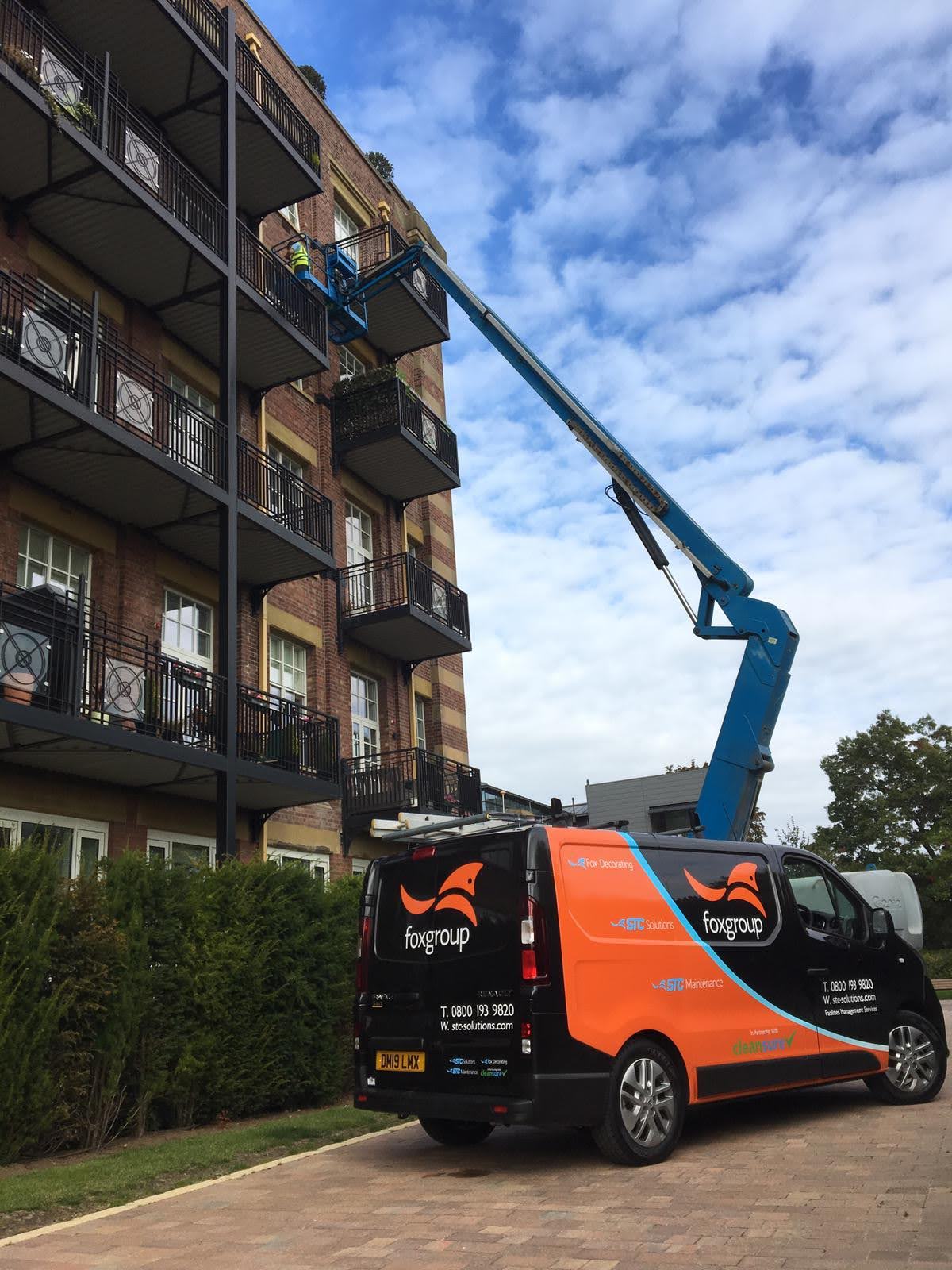 Nothing is out of reach
We have the ability to reach extremely high areas, making sure we are keeping safety as the main focus. We're able to reach windows that cannot be done from ground level.
Rendall & Rittner
STC Maintenance have carried out a wide range of works across a number of different properties all with individual needs. All specific requests were listened to and all works were carried out to a high standard. The reporting was second to none and the pro-active approach to works on site has proved tremendously beneficial.
Abbeyfield
STC have cleaned the windows inside and out at the Abbeyfield in Thirsk and Sowerby each month for over 10 years now and without fail they provide an excellent efficient, professional service all carried out in a friendly and caring manner.
Hugh Rice
Andrew has been cleaning our windows for over 10 years now, he and his team have never been anything other than friendly, professional and reliable, consistently delivering sparkling results.
Soper Group
Always a trustworthy , reliable and efficient service which we would highly recommend.
Office Location
The Deep Business Centre, Tower St, Hull HU1 4BG
Open Hours
M-S: 8am – 5pm, S: Closed
Wanting a change of career? Contact Fox Group today using the button below.